III. MANUFACTURING
Jillian Boustred has been Australian Made since 2015 with 100% of our woven garments made locally in Sydney. Each step of the making process requires a different skill set and a different factory. We work closely with all of these local factories and individuals as the products come to life.
Fabric Sourcing
We work with a diverse range of fabric suppliers in Sydney and across the globe. We first receive headers (small samples of fabrics on card) and once we have decided on a fabric, we move onto a bulk production order. We visit our local fabric suppliers three to four times a year, and maintain email relationships with our overseas suppliers who ship us out headers and fabrics throughout the year.
Cutting
The first step of the production process is cutting. The fabric is laid out in many layers and the pattern pieces for the garment are laid on top. The cutting technician then carefully cuts out each pattern piece using either an electric blade or hand held scissors - depending on the number of layers and fabric thickness.
We have been working with the same cutting factory since the beginning and visit them at least once a week. Cutting is an extremely important step. A small error can cause big issues for the makers when they are constructing the garment, so cutters are very precise.
Sewing
Once the garment has been cut into pieces, it is sewn together by the maker. We take all the cutwork to our makers along with accessories. Makers have an amazing eye for detail and very high standards when it comes to garment finishes. We have been working with the same two independent makers since the label began and visit them at least once a fortnight.
Hardware and finishes
The final step of the making process is hardware. We use a local studio in Redfern that specialises in buttonholes, denim hardware, and eyelets. We visit this studio at the end of the production process with the finished garments ready to be worked on or if a bespoke order needs some additional hardware, usually about ten times a year.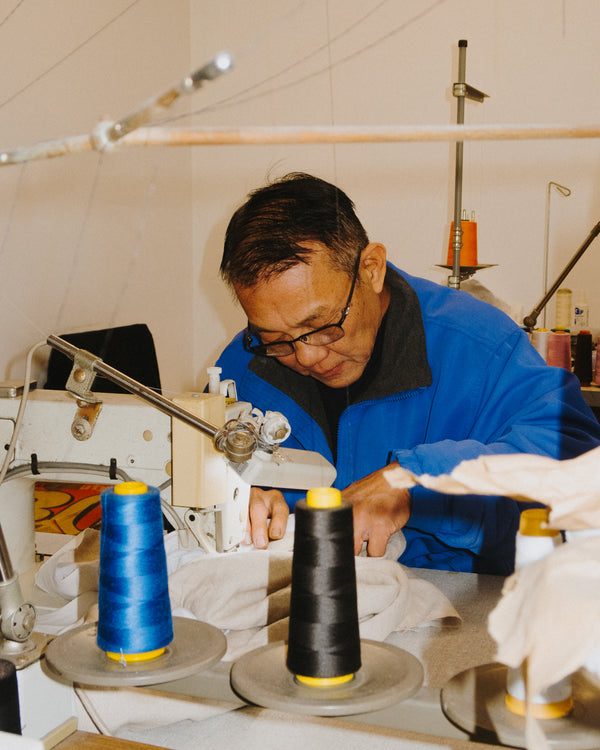 We strive to make all of our garments in Australia however our knitwear is made in China. Unfortunately, Australia has limited knitwear skills or factories as it requires certain machinery and equipment and there isn't a high demand for it. We have partnered with a boutique factory in Dongguan that allows us to produce low quantities to ensure all our knitwear is still made in measured and responsible quantities at a very high quality. We are proud to support these talented artisans and this supplier has signed our Supplier Code of Conduct, meaning that all garments are manufactured according to our standards.